Back-to-School shopping essentials focus primarily around tech and supplies.  BehindTheBuy.com's Senior Editor, David Gregg knows what's worth buying and how much to spend for it.
LG Gram Laptop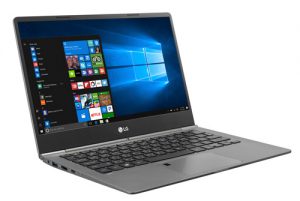 Back-to-school shopping and looking for the ultimate laptop? LG has the perfect notebook for busy students on the go – the 15-inch LG gram ultra-lightweight laptop.  The LG gram lineup features 13-, 14- and 15-inch class sizes all weighing barely over two pounds – making them the lightest among their class size in the world – and boasting a sleek, modern design with a touch screen and fingerprint ID sensor, starting as low as $999.99.
The gram also features an extended battery life up to 15 hours on a full charge. Students can leave the charger at home while they're at class knowing they'll be connected all day long. The LG gram comes equipped with a Full HD IPS display to produce remarkable brightness and high resolution and boasts a 16:9 aspect ratio for a more lifelike, immersive viewing experience. Users can also easily change the display mode of the laptop, including "Reader mode" and "Movie mode," which offers versatility for students who plan to use the device for a variety of content. Built around Intel's 7th generation i5 processor, the LG gram provides maximum productivity and plenty of room for file storage with a large Dual Channel Memory.
All three series of 2017 LG gram notebooks are available starting today nationwide at leading retailers including Amazon, Fry's, B&H, Microcenter, Costco.com, Beach Camera, and Electronics Express.
Price: Starts under $1,000
Website: http://www.lg.com/us/ultrabooks

ZEISS DuraVision BlueProtect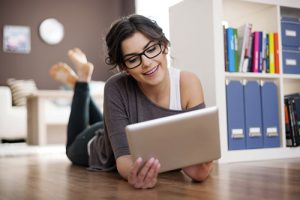 With tablets and laptops overtaking textbooks in the classroom, kids are plugged into the digital world now more than ever. But constant exposure to screens of all sizes can take a serious toll on young eyes – and overall health, according to the Vision Council. (dry eyes, headache, blurred vision, neck and shoulder pain). Digital devices display blue light, which enhances screen visibility in daylight, but harms vision over time. Even after the school day ends, recreation time spent gaming, watching TV and web browsing before bedtime can disrupt sleep patterns and have negative effects on school and work productivity.
Using these devices for long periods of time can even cause digital eye strain – that's the physical discomfort you might feel after spending two or more hours in front of a screen. The good news is that precision optics company ZEISS makes innovative lenses that can set kids up for success as they head back to school! ZEISS's DuraVision BlueProtect lens coating helps keep kids' eyes healthy and comfortable by filtering the harmful wavelengths of blue light in the digital devices they use every day.  As the inventors of anti-reflective coating, ZEISS' industry-leading technology is easy to clean and offers superior toughness against daily wear-and-tear, so you won't have to worry about replacing lenses while your kids learn and play. So if you need help seeing better, ZEISS has your solution.
Visit ZEISS.com/Lenses to learn more, and talk to your family's eye doctor to find the best ZEISS lenses for you and your kids.
Canon Pixma TS6020 Wireless Inkjet All-in-One Printer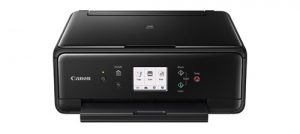 Canon's Pixma TS6020 wireless inkjet all-in-one printer offers an amazing assortment of features such as two convenient paper trays and fast two-sided and coloring graphics printing all for extremely low printing costs. These small, sleek and sophisticated printers can fit in with any home décor and are perfect for family projects, household printing needs, tech savvy gadget lovers, creative crafters and more!
Plus, there's no question about quality because it uses a five-ink system to print detailed photos and documents, sports fast output speeds, and even prints beautiful borderless photos. The Canon PIXMA TS6020 Wireless Inkjet All-in-One printer is currently for sale on Canon's shop page for $99.99 with an optional $27.99 3-year CarePAK service plan, which protects you from accidental damage such as drops, spills, power surges and other unforeseen events.
For a limited time, Canon U.S.A., in partnership with Nickelodeon, will provide exclusive and stimulating printable content inspired by popular Nick Jr. characters, Blaze and Shimmer and Shine, such as the 3D paper crafts seen here. Simply go to shop.usa.canon.com/nickelodeon for more information
Price: $99.99
Website: https://shop.usa.canon.com/shop/en/catalog/pixma-ts6020-black-wireless-printer

iHome iBT232 Bluetooth Alarm Clock Radio with Speakerphone and USB Charging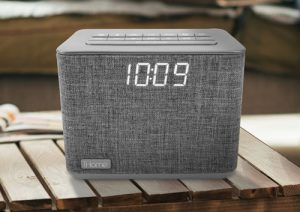 iHome's iBT232 is the ultimate clock radio for students going back to school.  A Dual alarm offers separate alarm times so you'll always get to class on time!  It's super sounding speaker can wirelessly stream music from any Bluetooth enabled device, so you can jam to your favorite tunes while chilling in your dorm or bedroom. The USB port lets you charge your tech devices while the built-in speakerphone with digital voice echo cancellation enables clear conversations with your friends so you don't have to hold your phone.  The cool design and its acoustic fabric will complement any room decor.
Price: $49.99
Website: ihomeaudio.com

Staples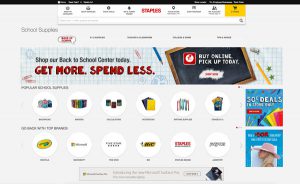 This summer, Staples can help ensure that you're prepared to handle back-to-school season like a pro – whether you're a parent, student, or teacher.  In stock all season long, Staples provides a wide assortment of quality products featuring the trendiest designs that kids want, while offering everyday low prices that mom can afford – all backed by the Staples 110 percent price match guarantee.
Exclusive Staples products including Staples Kids Lunch Bags ($9.99) and Staples Kid's 16-inch Backpacks ($19.99) will help you complete your personalized look, with a variety of tropical patterns and exotic animals in bold colors that you can match (or mix).
With a new spin on classic tools, Staples can also help ensure that this school year feels new and fresh. The Staples Better Binder ($8.49) and Staples Three Pocket Paper Folder ($2.49) maintains functionality while allowing students to express their uniqueness through several classic and fashion-forward designs.
Best of all, Staples is committed to making sure that products remain in-stock all season long for convenient one-stop shopping, offering a seamless experience, however mom wants to shop, in-store or online. Visit www.Staples.com to browse a wide array of products and to learn more.