Smart technology is now being integrated into most of today's new products. This fact requires us all to have a better understanding of connected products. Never fear, as BehindTheBuy.com's David Gregg is here!
Hisense 65-inch H8 4K Smart TV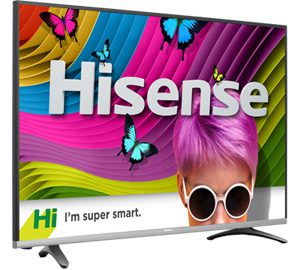 Keeping your eye on the immense screen of this 65-inch Hisense Ultra hi-def 4K TV will be very easy thanks to its sleek, super slim design, superior picture quality, and customizable Smart TV platform featuring top apps and a built-in web browser – at a surprisingly affordable price point! There are also 55 and 50-inch models in this series. All from Hisense – one of the world's largest TV brands you've never of – and fortunately will be seeing a lot more of! For more information, visit www.hisense-usa.com.
PRICE: Available at Best Buy for $949.99; www.hisense-usa.com.
Kingston USB OTG DataTraveler microDuo Flash Drives
Smartphones and tablets are now our primary screens to watch movies and shows while we're on the go. Fortunately, Kingston Technology, the world leader in memory products, makes it possible to increase our device's memory instead of spending tons of money on higher internal storage when we purchase mobile devices.  If your device doesn't have a microSD slot, Kingston's DataTraveler microDuo USB Flashdrives provides a super compact storage solution. There are two microDuo options, both models support USB On The Go and accommodate standard USB on one end and a microUSB or Type C connector on the other. Both also have a cap to protect the connector when they are not in use. Pricing starts at $12 with storage options up to 128 gigs.
DataTraveler microDuo 3.0 / DataTraveler microDuo 3C
– Additional storage for smartphones or tablets with USB OTG (on the go) support
– microDuo 3.0 capacities: 16GB; 32GB; 64GB
– microDuo 3C capacities: 32GB, 64GB, 128GB
– Share large files between mobile devices over USB
– Eliminating the need for a cable when transferring data between PC and mobile device
– Quickly transfer and backup files to your computer at USB 3.0 speed
– Compact and lightweight storage solutions
– microDuo 3.0 and microDuo 3C, each offer powerful dual interfaces that simultaneously accommodate USB Type A and microUSB / Type C with a convenient rotating swivel cap to protect microUSB / Type C connector
DataTraveler microDuo offerings:
microDuo 3.0 (black) capacities: 16GB; 32GB; 64GB
Price: Starts at $12; http://www.kingston.com/us/usb/personal_business/DTDUO3

microDuo 3C (silver) capacities: 32GB, 64GB, 128GB
Price: Starts at $20; http://www.kingston.com/us/usb/personal_business/DTDUO3C

OtterBox uniVERSE Case System with mophie Charge Force Battery Module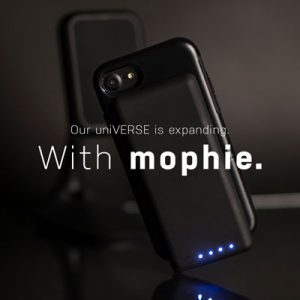 Today's smartphones require serious case protection and lots of power. Fortunately, OtterBox just partnered with battery maker mophie to bring advanced wireless charging technology to the uniVERSE Case System. This modular protective case transforms by attaching a variety of modules from other leading brands, like PolarPro, Square and now mophie. Now you can attach the charge force battery, which adds 39 hours of total talk time to your iPhone 7 or 7 Plus in additional to wireless charging capabilities. The charge force battery is compatible with most popular wireless charging platforms, such has Qi, and a variety of charge force accessories including a vent mount, desk mount and portable charge station. mophie batteries are available now on otterbox.com, at Best Buy and mophie.com for $69.95.

Incipio CommandKit Home Automation Solutions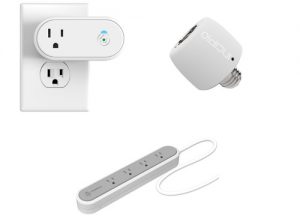 For those wanting to simplify their day to day routine at home, Incipio's Apple Home-Kit certified CommandKit Wireless Smart Outlet, Wireless Smart Light Bulb Adapter, and new Smart Power Strip allow you to easily and securely control your home appliances wirelessly, whether at home or on the go through a quick tap on your iOS device or Siri voice command.
By simply connecting the Incipio CommandKit Smart Outlet, Smart Lightbulb Adapter, and Smart Power Strip to your Wi-Fi network, you will be able to remotely access and control home products, including lamps, fans, irons, hair appliances and more anywhere, through your iPhone, iPad or other iOS devices. With Incipio's CommandKit home automation solutions, you won't have to ask yourself… "Wait, Did I Turn That Off?"
The newest addition to Incipio's CommandKit home automation solutions is the Incipio CommandKit Smart Power Strip, featuring four separate Smart outlets to wirelessly control multiple home appliances and accessories individually or together as a group.
Incipio CommandKit products and App includes integration with Apple HomeKit and Alexa-enabled devices such as the Amazon Echo, Echo Dot, and Amazon Tap.
The Incipio CommandKit Wireless Smart Outlet and Wireless Smart Lightbulb Adapter are $39.99 each and are both available now at https://www.incipio.com/accessories/smart-home/commandkit-accessories.html
The CommandKit Wireless Smart Power Strip will be available for $99.99 early next month at Incipio.com.
nonda Smart Car Charger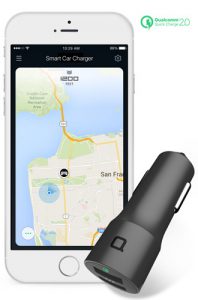 Cars have gotten smarter, however, they still can't remind you where you've parked, alert you when a parking meter is expiring, monitor and provide notifications of your car's battery health, and record your business driving mileage. Fortunately, Nonda's innovative Smart Car Charger and companion app can do all of these things while delivering blazing fast in-car charges to your devices in half the time – thanks to its QC 2.0 port compatibility! Priced under $9 – Nonda's Smart Car Charger proves you don't have to break the bank to find an affordable gift for your dad or anyone that drives or rides in a car!
PRICE: $13.99; https://www.nonda.co/products/nonda-smart-car-charger