Spring has sprung and so has a crop of new product solutions to thaw our lives back into action after our long winter doldrums.  David Gregg, Senior Editor of BehindtheBuy.com delivers the goods, as he always does!
Polar A300 Activity Tracker and Heart Rate Monitor

With Spring right around the corner, it's time to start thinking about getting in shape for warmer weather, but which fitness wearable is the best match for you? Polar is the leader in heart rate and fitness tracking technology, and the Polar A300 is the perfect choice for people who are trying to get in shape and want to know more about their training.  It's also great for fitness-focused "techies" who want the latest in wearables.  The Polar A300 tracks daily steps, distance, calories and sleep. If you're sitting for too long, the A300 will vibrate on your wrist to let you know it's time to get up and move! It even tracks how long you sleep and compares how restful and restless it is. With up to four weeks of battery life, the Polar A300 is ideal for 24/7 wear.
The main difference between the Polar A300 and other trackers is the ability to monitor heart rate. Fitness buffs know that this is the most accurate way to measure exercise intensity. With the Polar H7 heart rate sensor, the Polar A300 captures workouts and calorie burn that most trackers can't by monitoring heart rate during your spin class or yoga session. Polar A300's heart rate sensor can factor all of this into your daily activity goals and provide feedback to ensure your workouts become more and more efficient.  Everything from the tracker syncs to your iPhone or Android app too, so you can see your activity and sleep through the Polar Flow app or online and get motivated to do even better. It's also now compatible with AppleHealthKit, MyFitnessPal (on iOS) and GoogleFit.
The Polar A300 activity tracker is waterproof, so you can wear it in the shower, swimming or even at the beach! For those who want to switch it up, the Polar A300 is available in six juicy interchangeable colors: pink, white, black, grey, blue and yellow.
PRICE: $159.95 for Polar A300; $199.95 for Polar A300 with H7 heart rate sensor; $24.95 for additional wristbands (other colors); https://www.shoppolar.com

Victorinox WERKS TRAVELER™ 5.0 Collection (Model WT 22)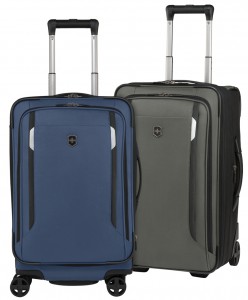 Introducing the Victorinox WERKS TRAVELER™ 5.0 collection. It packs more, weighs less and features 5 packing solutions for unlimited possibilities. The intelligent Pack More System includes the Pack More divider, X-shaped compression straps, a removable suiter, a 2" (5 cm) zippered expansion and a removable attach-a-bag strap. The Pack More divider is adjustable in height and creates a flat packing surface for wrinkle-free transport of clothing. It allows you to:
•             Take advantage of all of the space in the bottom of the case
•             Use the divider to separate shoes or other bulky items
•             Use the divider to separate dirty clothes from clean clothes
•             Larger cases also have the same great packing features, so you can use the divider to separate belongings when sharing packing space with another family member
X-shaped compression straps secure and condense contents of bag and dual-casters deliver a smooth, stable, quiet roll and provide 360° movement with zero weight-in-hand.  Additionally, the bag comes with a Travel Sentry® Approved combination lock.  Its Access™ Lock Combination Recovery Program allows you to register your lock combination on victorinox.com and recover it if it is ever forgotten.
The Victorinox WT 22 is available in Black, Olive Green and Navy Blue.
PRICE:  $369.99; swissarmy.com

Seagate Personal Cloud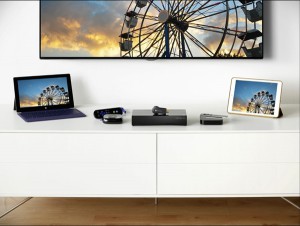 Seagate Personal Cloud and Personal Cloud 2-bay is the latest networked consumer storage offering with advanced streaming capabilities.
Personal Cloud is a cool, secure place to load and store all of your favorite music and movies along with a lifetime of photos. Your everything. Seagate Personal Cloud provides the accessibility of cloud storage with the peace of mind that content is stored safely at home. What differentiates these two Personal Cloud drives apart is how easily they can stream content to smartphones, set-top boxes, tablets, and PCs. You can also cast your content to a Chromecast, LG Smart TV or Roku player easily using the Seagate Media app.
Additionally, when used in conjunction with the Seagate Mobile Backup app and Dashboard software, Seagate Personal Cloud also serves as a central backup device for PCs, Mac computers, USB drives, iOS and Android mobile devices. Additionally, with your Personal Cloud, you can securely access your content from anywhere and share.
PRICE: Starts at $169.99 (for 3 TB); www.seagate.com

Frieling BLACK CUBE Cookware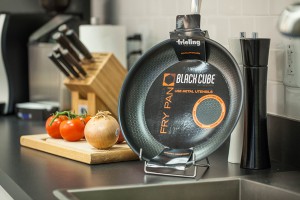 The first hybrid pan that combines the benefits of stainless steel and nonstick.  Features a raised stainless steel pixel pattern that protects the PFOA-free nonstick coating underneath. Safe for use with metal utensils. The longevity and browning capabilities of stainless steel, plus the easy cleanup and low-fat cooking options of nonstick. Dishwasher and oven safe.
PRICE:  8-inch Fry Pan – $59.95; 9½-inch Fry Pan – $69.95; 11-inch Fry Pan – $79.95; 12½-inch Wok – $124.95 www.frieling.com