Practically every aspect of our lives relies on some type of technology.  With that in mind, our Free Friday Guy – David Gregg – BehindTheBuy .com's – Senior Editor – joins us this morning with some of the newest products to keep our digital lives and devices safe and secure.
Magellan MiVue 420 DashCam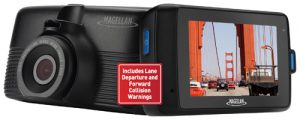 It may seem that one product wouldn't combine the factors of safety and accidental viral fame, but this product does just that.
The new MiVue 420 DashCam is always recording what is happening outside your dashboard. If there is an accident that leads to a fraudulent claim, you'll have footage of it. If something crazy on the road happens that you couldn't describe if you wanted to, you'll have footage of it (Search Youtube: DashCam videos, it's a thing).
Drivers are vulnerable to fraudulent claims in accidents, vehicle vandalism and road rage. The MiVue 420 can ensure the best possible outcome from these unpredictable situations. With its HD camera, outdoor travels can be recorded seamlessly, making it the perfect companion for the road.
The MiVue 420 from Magellan is ideal for anyone on the road, especially campers and other outdoor adventurists. The 1296p Ultra HD camera mounts to the vehicle's windshield and records video and audio.
Other features include:
– 2.7 inch screen (16:9)
– Land Departure – Audio alert and icon appears when departing to the left or right of the current lane
– Front Collision Avoidance – Audio alert and icon appears when the driver is getting too close to the car ahead
– G Shock sensor
– GPS Tracking – GPS coordinates, and time and date stamp
– Best image quality in the industry
– Parking Mode and Camera Mode
– Storage up to 128GB
– Wide Angle Lens – 140 degree field of view
– Cruise Speed Alarm – Visual and audio alert
Price: MSRP $179.99; http://www.magellangps.com/Store/MiVue-DashCam-Dash-Camera-Products/Dashcam-MiVue-420

PRODUCT GIVEAWAY – (1) Product Unit
Baldwin Evolved Smartlock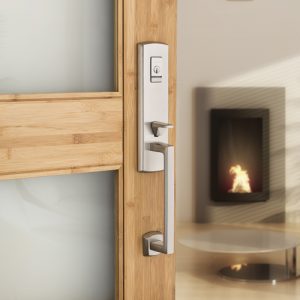 Evolved is Baldwin Hardware's next generation of luxury hardware perfectly blending style and technology.  The Baldwin Evolved smartlock leverages Bluetooth technology for an easy touch-to-open solution.  Baldwin Evolved is powered by Kevo technology and a downloadable app allowing customers to easily issue "ekeys" for access, real-time access history and unlocking abilities. Baldwin Evolved is available in 18 styles and 18 finishes offering customers a wide array of customization options.
Price: Starts as low as $165  (Available in Spring 2017); http://www.baldwinhardware.com/evolved-coming-soon 
PRODUCT GIVEAWAY – (1) Product Unit
Tile Mate and Slim Bluetooth Trackers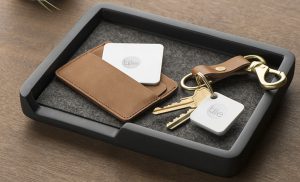 Tile is a tiny Bluetooth tracker and easy-to use app that helps you find everyday items in seconds. Tile makes life easier by helping your loved ones spend less time looking for their stuff and less money replacing their things.  Tile has two new products, the Tile Mate and Tile Slim. Tile Mate has a convenient hole making it a great product to loop onto key chains, backpacks, purses, etc.  The new Tile Slim is the world's thinnest Bluetooth tracker, as thin as two stacked credit cards. Its slim profile makes it perfect for sliding into your wallet, purse, passport, laptop case, or anything with a slim profile.
Price: Starting as low as $25; Combo packs start at $90 and include 2 Mates and 2 Slims
Website: www.thetileapp.com
Tile Mate: 

Tile Slim: 

PRODUCT GIVEAWAY – (1) Product Unit
ZAGG InvisibleShield Sapphire Defense with Screen Guarantee Plan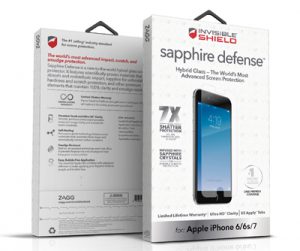 Sapphire Defense features the ultimate combination of screen protection – the impact component of traditional screen protection, sapphire-infused scratch resistance, and the smooth feel of tempered glass. Together, they combine to create a virtually indestructible screen protector.
Features:
– 7X Shatter, Impact, and Drop Protection: Advanced technology absorbs and distributes impacts for 7X more drop and impact protection than an unprotected screen.
– Scratch Protection: A proprietary process infuses sapphire crystals, one of the hardest minerals in the world, into the screen protector for unmatched scratch protection with a super smooth finish.
– Smudge Resistant: Built-in, oil-resistant design helps reduce fingerprints and smudges to keep your screen pristine.
– Ultra-Clear: Meticulously tested materials were selected to deliver 100% high-definition clarity, better image depth, and remarkable touch sensitivity.
Customers who sign up for the Screen Guarantee plan beta program (zagg.com/screen-guarantee-plan) will receive a bundle that includes:
– One (1) InvisibleShield Sapphire Defense for their iPhone 6/6s/7 or 6 Plus/6s Plus/7 Plus.
– One (1) IFROGZ Vue Clear case to provide 360-degree protection for their device
– One (1) one-year screen guarantee plan  (receive $100 toward screen repair) covers one (1) incident with no deductible
PRICE: $79.99; https://www.zagg.com/us/en_us/screen-guarantee-plan
PRODUCT GIVEAWAY – (1) Product Unit