Asking David Gregg BehindTheBuy.com's  Senior Editor to limit his 2017 Holiday Gift Suggestions to just one visit is like asking a kid to take a single sweet from a candy bowl!  So he's back with part 2!
NETGEAR Orbi Tri-band WiFi Systems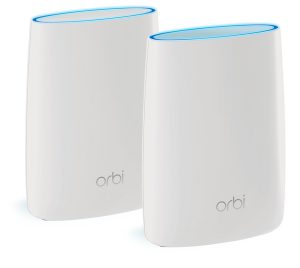 It's now possible to get seamless and strong wireless Internet reception – in ANY home – regardless of its size or configuration, thanks to NETGEAR's Orbi Tri-band Wi-Fi System featuring FastLane 3 technology!  Instead of using a single wireless router to provide your home with Internet – NETGEAR Orbi uses "satellites" to deliver the strongest connection!  By including "Circle with Disney" software – families can now closely monitor and manage everyone's online time and keep them protected from inappropriate material.  Orbi Wi-Fi systems can grow with you, offering up to 5,000 sq. ft. of coverage at speeds of 3 G-bps for fast access to deliver a strong connection to every corner of your home.  Additionally, Netgear's Orbi Wi-Fi smartphone app lets you conveniently and remotely manage network settings – from anywhere!
Availability: 
NETGEAR Orbi Home WiFi Systems are now available worldwide from major retailers around the U.S.
PRICE: Starts at $299.99
WEB: https://www.netgear.com/orbi
OtterBox Cases for iPhone 8, 8 Plus and X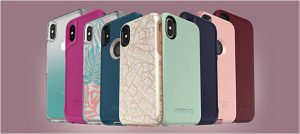 Smartphones are our greatest investments, besides (of course) our cars and homes!  Give the gift of peace of mind this holiday season with OtterBox – THE most trusted and stylish brand in smartphone protection.  OtterBox has a full slate of cases for the new iPhones, including the iPhone 10.  From tough and rugged to sleek and stylish and everything in between, OtterBox has a case for everyone on your gift list.  The Symmetry Series is super thin and comes in more than a dozen unique colors and designs, including clear with translucent patterns so it will let your cool new phone shine through.  All models are available in trendy new colors and designs, so they get the style they want and the protection they need.  With prices starting just under $40, anyone can now afford stylish and superior protection for their smartphone!
PRICE: Starts at $39.95
WEB: www.otterbox.com
Emerson Sensi Touch Wi-Fi Thermostat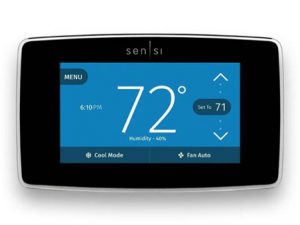 Smart and connected technology will be popular items on many of our holiday gift lists.   Emerson's Sensi Touch Wi-Fi Thermostat tops the list of this product category – because it has been named "Best Smart Thermostat of 2017" by USA Today's – Reviewed.com.  Sensi's sleek touchscreen fits into today's modern living spaces and features a high-definition color display – making temperatures and the accessible menus easy to read.  The intuitive mobile app allows convenient and easy access to set, change and program and your home's comfort – from across the room or across the country.  Features like geo-fencing, flexible scheduling and remote access help save you money and energy without compromising comfort during every season of the year.
Priced just under $200, it allows you to affordably give anyone a practical gift that'll save anyone money all year long!
PRICE: $199.99
WEB: sensicomfort.com
 iHome iZABT50 Zenergy Aromatherapy Speaker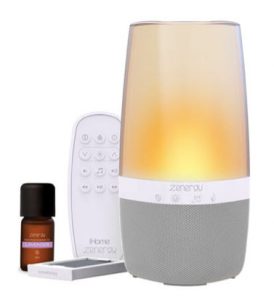 iHome's new iZABT50 Zenergy Aromatherapy Speaker combines light, sound, aromatherapy and a wireless built-in speaker to deliver a stress-reducing and sleep-inducing state of bliss for any person fortunate enough to receive it as a gift!  The 7 relaxing color Light Therapy modes were specifically designed to align your circadian "sleep" rhythm at night and improve your mood throughout the day.  The built-in Sound Therapy features 6 relaxing modes designed to encourage a calm and controlled state of mind, breathing, and heart rate to prepare your body for sleep.    The Aromatherapy feature creates a calming environment with the use of essential oil.  A starter 5 ML bottle of lavender essential oil is included!  It can also wirelessly stream audio from any Bluetooth-enabled device.  Affordably priced under $100, it will bring your gift-giving budget (and its recipient) to a state of bliss and nirvana!
PRICE: $99.99
WEB: https://www.ihomeaudio.com/iZABT50W