Cooking, Cleaning, and Gift Shopping – ALL of us will be involved in these activities over the next month.  Fortunately, we've got a nationally trusted new product expert with us today – David Gregg, BehindTheBuy.com's Senior Editor – to help simplify our lives during this time of the year!  So David, what new products can help us accomplish our holiday season activities?
JURA J6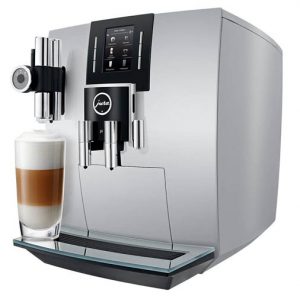 From the start of our day to the final dessert of a holiday meal – A perfectly brewed cup of coffee can make OR break those events!   Enter Jura's brand new J6 bean to brew coffee machine!   JURA's exclusive technology is literally an expression of good taste because it allows anyone to experience THE ultimate coffee beverages at home.  The vertically positioned color control screen permits easy selection from one of 13 popular drinks – from classic coffee to cappuccino, latte macchiato and the trendy flat white – – at the touch of a button. The Intelligent Water System automatically prompts water filter changes, when they're required.  And its beautiful Swiss design and engineering make it a breeze to clean and maintain.
PRICE: $2,999; https://us.jura.com/en/homeproducts/machines/J6-Brillantsilver-UL-15150
AVAILABLE: Sur La Table or JURA.com
Energizer Headlights and Flashlights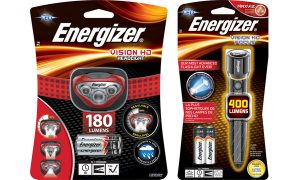 Who better to light up the holiday season than Energizer? It's time to brighten your shopping list with Energizer headlights and flashlights.
Think about who is on your gift list. Is it someone who likes walking the dog on dark winter mornings, exploring the great outdoors, completing the next DIY home project or going for an evening jog? These headlights and flashlights are the perfect stocking stuffer to light up their next adventure. The Energizer Vision HD headlight features powerful beam of up to 180 lumens with 3 light modes, a new dimming feature, and pivoting functionality to direct light where you need it. It's weather resistant and drop-tested (up to 1 meter) to stand up to harsh conditions. The innovative smart-dimming technology feature provides users with maximum run time to brighten all their hands-free activities.
The Energizer Vision HD performance metal light with Digital Focus has ultimate light control with digital focus feature MAXVIZ™ technology. The one-press digital focus easily transitions from a full spotlight to a full flood light and the aluminum alloy exterior makes it a durable choice. Its impressive run time, paired with powerful light output and a natural daylight color make this flashlight a must-have for your holiday list.  Energizer lights are the perfect solution for your friends and family members' diverse interests and hobbies this gifting season. Make the holidays brighter this year with Energizer lights for all the adventurers, runners, and DIY-ers on your shopping list.
PRICE: Energizer headlights and metal light series start at $15.
Web Link: http://www.energizer.com/lighting
Canon EOS M100
Capture life's special moments in vibrant, beautiful color and detail with the compact and easy-to-use EOS M100 interchangeable lens camera. An easy-to-use yet powerful camera, the EOS M100 is an excellent choice for those looking to step up from smartphone photography, offering the versatility of interchangeable lenses, optical zoom, and the latest imaging technology, without sacrificing size, style or the ability to share instantly. These impressive results are simple to achieve thanks to the 24.2 Megapixel CMOS (APS-C) sensor along with features including a 3.0-inch tilt-type LCD that rotates 180° for artistic angles and selfies, a Self Portrait Mode and Creative Assist to help guide you in getting the shot you want. On the video side, Full HD 60p and Dual Pixel CMOS AF let you record stunning and smooth action, while built-in Wi-Fi, NFC and Bluetooth technology let you share it all, any way you like.
PRICE: Available now, $599.99
Web link: https://www.usa.canon.com/internet/portal/us/home/products/details/cameras/eos-m-series-digital-cameras/eos-m100-ef-m-15-45mm-is-stm-kit/eos-m100-ef-m-15-45mm-is-stm-kit
Rowenta Silent Comfort Heaters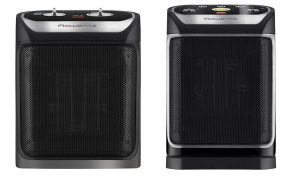 My next holiday season solution will literally warm its recipient's heart!                 Rowenta's NEW Silent Comfort Heaters are part of a growing line of home comfort products from Rowenta.  These compact space heaters are designed with the optimal combination of powerful heat and silent operation. The two size options make them ideal for whole room use – from bedrooms, living rooms, and offices.  Advanced safety features include auto-off, a safety alert, standby light and its cool touch handle.  Save a few hundred dollars on your energy bills – this winter by using the Rowenta's Silent Comfort Heaters to only heat the room you're in and lower the thermostat in the rest of the house.
PRICE: Silent Comfort Compact Heater: $60; Silent Comfort Eco Energy Heater: $125
Web link: http://www.rowentausa.com/HOME-COMFORT/HEATERS/c/HEATERS
TrackR pixel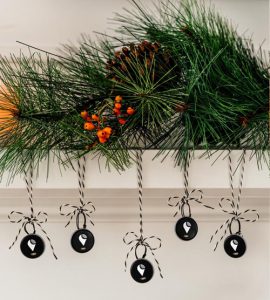 Holiday travel is a time many people lose their tech devices and keys!  The TrackR pixel is a practical gift that provides peace of mind, so you never have to worry about losing anything! Sized like a small coin, this Bluetooth device easily attaches to items like wallets and TV remotes. Once activated – it lights and rings loudly to help you find your item in seconds.  Amazon's recent Alexa integration, allows anyone with the free TrackR app to ask Alexa to ring a misplaced phone at home – or if your phone's not in the house, Alexa will track it to its last location. If an item ever gets lost outside of its large 110 foot Bluetooth range, TrackR's Crowd Locate network can help you find it quickly too!
PRICE: One (1) Device Pack: $24.99; Four (4) Device Pack: $99.99
Web link: www.TheTrackR.com