Last week in Chicago, the 2015 International Home and Housewares Trade Show blew into town! It is the largest trade show of its type in the U.S.A.  Notable features include the latest product trends for all things required to make your house a home in the kitchen, organizationally, during clean-up and in the bathroom.  BehindTheBuy.com's Senior Editor – David Gregg, joins us with some of the product highlights from this year's event.
Keurig's 2.0 K200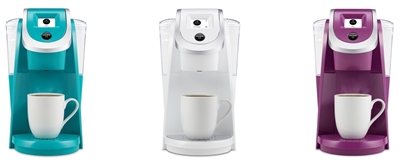 Keurig introduced the thinner, taller, more colorful 2.0 K200 series at the 2015 International Home and Housewares Show.  Available beginning May 12, 2015, the 2.0 K200 brewer offers the suite of Keurig 2.0 features from size customization to strength control in a small, more colorful footprint. The Keurig 2.0 offers users more than 400 beverage varieties available from over 60 brands and has the ability to brew both a single cup and a four-cup carafe!   Listening to consumers living in small spaces, Keurig heard that a narrower, but deeper brewer footprint would free up room on their counters, home desks, and dorm room bureaus. Following that design insight, the K200 series fits nicely in tight spaces and brightens up the room with an array of colors from classic Black, White, and Strawberry, to trend-forward, Sandy Pearl, Turquoise, Violet, and Orange Zest.
Features:
•  Nine brew sizes ranging from four oz. to 30 oz.
•   40 oz. water reservoir
•   Strength control
•   Black and white touch display
Available beginning May 12, 2015
PRICE: $109.99-$119.99;  www.Keurig.com
Frieling BLACK CUBE Stainless Nonstick Cookware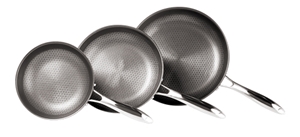 Frieling's Black Cube cookware achieves "world's first status" by combining all the benefits of stainless steel and ceramic nonstick cookware. Imagine a nonstick fry pan that is safe for use with metal utensils and can brown like a stainless steel fry pan!
Stainless Nonstick is a raised stainless steel pattern over a recessed layer of nonstick coating. This allows for browning on stainless steel without sticking and protects the nonstick coating when using metal utensils.
Black Cube is built to last with its 3-ply construction and the high quality PFOA free nonstick layer. All pans work on any cooktop and are oven safe up to 450° F. For ultimate convenience they are also dishwasher safe.
PRICE: Starts at $59.95; www.direct.frieling.com

BergHOFF Perfect Slice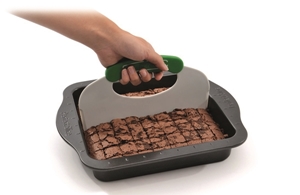 The Perfect Slice is a series of handy bake ware that's available in three different forms.  A square, round and pie pan with the marks on the edge of the baking dish so you can always cut equal parts with the included cutting aid. The perfect kitchen helper for both hobby and the professional baker/cook. The Perfect Slice is equipped with a non-stick coating to prevent sticking. In addition, both the Perfect Slice casserole dishes and cutting aid are dishwasher safe.
PRICE: $35.65 www.berghoffworldwide.com, www.bedbathandbeyond.com
Cuisinart's International Chef Crepe/Pizzelle/Pancake Plus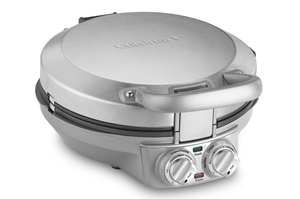 Cuisinart is creating international buzz with its new International Chef Crepe/Pizzelle/Pancake Plus! This multicultural countertop press makes crêpes, tortillas, blintzes, pizzelles, and more. Opened flat, it turns into a griddle for traditional or Swedish pancakes. Reversible, nonstick plates are dishwasher safe. Indicator lights, adjustable temperature control and timer ensure everything cooks perfectly, and recipes are included from around the world!
PRICE: $99.95      www.Cuisinart.com

Ecovacs Deebot D79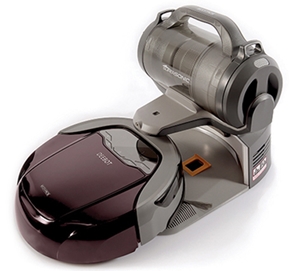 This first of its kind robot is full of smart cleaning features. DEEBOT D7 Series can automatically clean all types of flooring whether it is wood, marble or low pile carpet. It has 4 cleaning modes, an effective agitator brush, dual side brushes to clean along edges and corners and a slim design to reach under furniture. Ecovacs DEEBOT D7 Series even empties its own dust bin and automatically recharges itself when the battery gets low!  The DEEBOT D7 Series also has multiple hi-tech sensors to stop it from falling down the stairs, protect the furniture and avoid obstacles in its path.
Intelligent time scheduling allows owners to regulate the Ecovacs DEEBOT D7 Series to clean any time they want – even when they are not at home. Ecovacs DEEBOT D7 Series doesn't stop at cleaning floors. With the detachable hand held canister vacuum and its accessories, owners can easily clean other surfaces in their homes. Cleaning ceilings, walls, closets, kitchen cupboards and even keyboards are all a piece of cake.
PRICE: $699     https://ecovacsrobotics.com
Biaggi ZipSak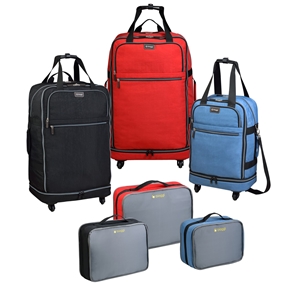 Tired of your suitcase doubling up as a coffee table? Biaggi luggage is your storage solution! The ZipSak expands to a spacious piece of luggage and shrinks down to a tiny pouch for simple storage under a bed, in a drawer, or on a shelf.  As seen on ABC's Shark Tank, the Biaggi ZipSak by Lori Greiner solves the storage problem created by bulky suitcases. The ZipSak expands to a spacious piece of luggage and shrinks down to a tiny pouch for simple storage under a bed, in a drawer, or on a shelf. Comes in 3 sizes and 4 terrific colors!
PRICE: Starts at $59    http://www.biaggi.com/zipsak

Toilet Tattoos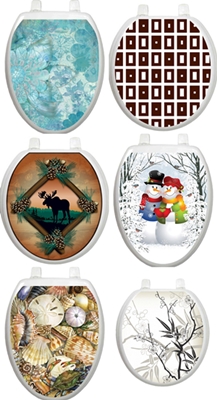 You know how your toilet is so plain and you'd like to embellish it, but you don't want to use that old fashioned, germ-harboring rug and those decorative seats are too costly and time-consuming to change? Well Lena Fiore', Inc. has come up with a solution they trademarked Toilet Tattoos. Their patented innovation is the first hygienic, decorative, removable applique for the toilet lid. Toilet Tattoos are made in the USA from electrostatic vinyl film. There are no adhesives so they are reusable and can be wiped clean.  In 3 easy steps, peel, place and smooth, the look of your lid can be transformed. Toilet Tattoos satisfies the 21st century need for a quick, clean, modern and attractive way to enhance the toilet. The styles range from whimsical to classic designs, seasonal and even original works of art, as well as some collegiate licenses. Toilet Tattoos are…The only way to crown your throne.
PRICE: $9.99-12.99 – Available at www.toilettattoos.com, Wayfair.com, Wal-Mart.com and Bed, Bath & Beyond stores.