From Personal Video Devices to Perceptive Alarm Clocks and Smart Homes, David Gregg, BehindTheBuy.com's Senior Editor is our go-to-guy for the skinny on the Show Stopping products at CES 2018.
Royole Moon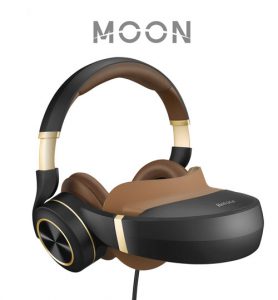 The Royole Moon 3D Mobile Theater is designed to deliver the most immersive cinematic experience available in a personal mobile display.  Moon is engineered for movies, gaming, and more. It combines two Full-HD 1080p AMOLED displays at over 3000ppi resolution that simulates a giant screen with stereoscopic 3D, and hi-fidelity active noise-canceling headphones. The combination delivers cinematic movie-watching and immersive gaming experiences anywhere the wearer desires. Moon's patented foldable design (the world's first in a headset), ultra-soft headphone covers, and a premium breathable eye cover ensure comfort, even after long periods of continuous use.
Moon's new operating system, Moon OS, utilizes Royole's patented flexible electronics technologies, allowing full touch-control from the right earpad, eliminating the need for an external controller. Moon is capable of sourcing movies from smartphones, set-top boxes, gaming consoles, and PCs, as well as accessing content from nearly any internet-based service, such as Netflix, Amazon Video, Hulu, YouTube, and more. It also can enhance gaming experiences on popular platforms, including PlayStation, Wii, Xbox, Apple, Google, and others. With 2D/3D format auto-detection, the user experiences content the way it was designed to be enjoyed. Moon was created using the highest quality materials and comes in three stunning colors: black, white, and gold.
Royole offers purchasers of the Moon 3D Mobile Theater an opportunity to enjoy watching their favorite feature films through a new app called "Royole Lounge".  A completely integrated digital video service, Royole Lounge makes it easy for movie buffs to experience Moon's premium features. Buyers of the unit are offered three 2D or 3D movies, from Sony Pictures Home Entertainment redeemable through the Royole Lounge app, the built-in dedicated entertainment hub for Moon owners.
PRICE: $799.99
WEB: www.royole.com/moon
Availability: Amazon.com, Brookstone, Royole.com, InMotion, Bestbuy.com

Samsung Notebook 9 Pen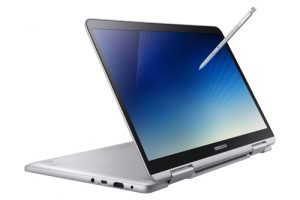 Samsung introduced the Notebook 9 Pen AND Notebook 9.  This ultra-slim, durable AND convertible 2-in-1 Samsung Notebook 9 Pen – weighs in at just 2.2 pounds.  Its 360-degree hinged design easily converts from laptop to tablet AND back.  Samsung designed it for consumers expecting a one-two punch of power AND the creative computing capabilities of the S Pen. –  The same S Pen perfected in Samsung's Galaxy Note series.  The built-in S Pen is battery free and features tilt detection and a fine – .7 millimeter tip capable of recognizing over four thousand levels of pressure to allow a more natural writing and drawing experience – in addition to S Pen shortcuts, including Samsung Notes and Autodesk Sketchbook!
PRICE: TBD
WEB: www.samsung.com/us/explore/notebook9
Netgear Nighthawk Pro Gaming XR500 WiFi Router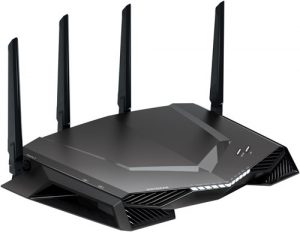 For those that love to get their game on, Netgear introduced a new category of products designed by gamers – for gamers.  Netgear's Nighthawk Pro Gaming XR500 WiFi Router will make online gamers rejoice – regardless of skill  – because they'll finally be able to achieve low – lag – gameplay – along with a competitive advantage of reliable, and responsive WiFi functionality!  This first of its kind gaming router utilizes a Dashboard to provide Geo Filtering, Quality of Service and Network Monitoring to personalize your entire gaming environment!   Nighthawk's cutting-edge software makes it all happen by stabilizing ping, reducing lag spikes, and always keeping you connected for the ultimate in reliable and intense online gameplay and providing it's users the Power to Win!
PRICE: $299.99

WEB: www.Netgear.com
iHome  iBT297 Clock Radio with Smart Button
iHome's Clock Radio with Smart Button NOW makes it possible to wirelessly set your alarm while adding excitement and color to your streaming music, charge your tech tools and control your home's connected devices (from many popular brands) and stream music with the touch of a button or your voice using Siri or Google Assistant!  It's controlled with the free iHome Enhance app.  The LED cabinet features seven color modes (that can even pulse to music) and an alarm display.  The built-in mic -voice echo cancellation and answer AND end controls make speakerphone use a breeze.  It even includes an FM radio with 6 presets. This is DEFINITELY NOT your grandmother's clock radio!
PRICE: $69.99
WEB: www.iHome.com