The annual Consumer Electronics Show has made its way back to Las Vegas and so has David Gregg – BehindTheBuy .com's Senior Editor – to discover and bring us 2017's top trendsetting technology.

Whirlpool Smart Kitchen Suite with Scan-to-Cook Technology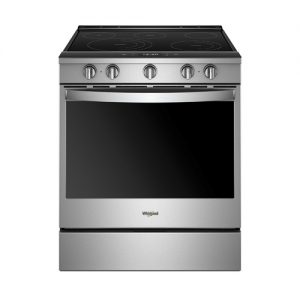 At CES, Whirlpool brand is showcasing product innovations inspired by the way families care for each other.
Believing that a smart home should learn, adapt and grow with how families care for each other but not get in the way, the brand is helping remove guesswork in the kitchen by taking smart to a new level.
Busy parents now have fewer steps to worry about when preparing dinner with Scan-to-Cook technology from Whirlpool brand. Scan the barcode of your favorite frozen meal using the Whirlpool mobile app, and the right settings and cooking instructions are automatically sent directly to your smart range, microwave or wall oven. If you want your pizza extra crispy the next time, the Whirlpool mobile app can customize settings to remember the specific preferences for the items you bake.
In addition, for complicated, three-step dishes, recipes can be sent directly to the appliance via the app to bake, broil, and keep the dish warm without manually switching the oven.  And to round it out, Whirlpool brand's assisted cooking allows families to remote preheat, start, stop and adjust temperatures through the Whirlpool mobile app – making it easier than ever to get dinner from frozen to fork with the least amount of hassle.
Each appliance in the suite features an intuitive, full-color touch screen for consistent and simple navigation across the kitchen to select certain cooking methods or types of food to make. The dynamic system allows families to save their favorite settings and organize them by time of day – whether reheating or steaming in the microwave or baking in the oven for dinner each day.
Proximity sensors on the oven detect when a family member is near or when they walk away, adjusting both font size and volume accordingly. For example, if you are across the room from your oven, the sensor will increase the volume when the timer goes off, indicating that your food is done. Or, if you need to know the baking time left, the font size will increase when you are further away.
For more information about Whirlpool at CES visit ces.whirlpool.com.
Baldwin Evolved Smartlock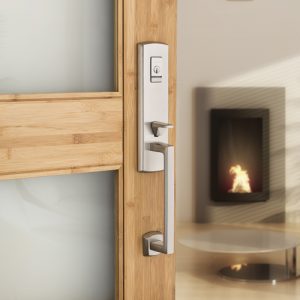 Evolved is Baldwin Hardware's next generation of luxury hardware perfectly blending style and technology.  The Baldwin Evolved smartlock leverages Bluetooth technology for an easy touch-to-open solution.
Baldwin Evolved is available in 18 styles and 18 finishes offering customers a wide array of customization options.
Baldwin Evolved is powered by Kevo technology and a downloadable app allowing customers to easily issue "ekeys" for access, real-time access history and unlocking abilities.
Baldwin Evolved is expected to be available in the Spring of 2017 and prices will begin as low as $165.
www.baldwinhardware.com/evolved-coming-soon
iHome Zenergy Sleep Therapy Speakers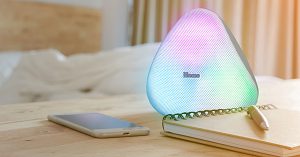 iHome's Zenergy Sleep Therapy Speakers are a 2017 CTA Innovation Award Honoree – due in part  to their effectiveness in promoting better health – by inducing more restful sleep – at night and better energy, during the day!
They've been endorsed by Michael Breus – also known as The Sleep Doctor – the nation's most trusted authority on sleep.
The Zenergy speakers use a combination of proven sound and light therapy techniques to help you fall asleep and wake energized.
The speaker's soothing – naturally recorded nature and white noise sounds were specifically designed to help your mind and body relax and reach a state of Zen, focus, and peace.
The light therapy programs promote sound sleep and increase energy during the day.
The larger iZBT10 is perfect for night tables and the smaller – award honoree –  iZBT5 is ideal for travelling, yoga and meditation.
Zenergy Therapy speakers make it affordable to – Sleep restfully and Wake energized!
PRICE: iZBT10 $99.99; iZBT5 $69.99
Carrier Cor 5C and Cor 7C Thermostats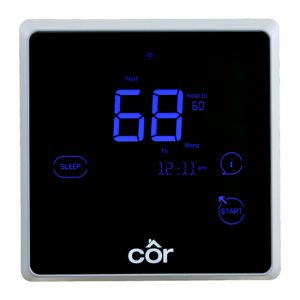 Carrier – the inventor of modern air conditioning more than 100 years ago continues to lead the connected home space at CES 2017 with the addition of the models 5C and 7C to their Cor line of Smart thermostats.  These new models provide even more affordable options of Wi-Fi enabled HVAC controls, so every homeowner can reduce their home's heating and cooling bills an average of 20%!
The improved Smart Setback feature optimizes system performance -based on each home's individual thermal characteristics – to enhance energy savings and your home HVAC system's functionality.
The app based – multi-color touch screen can be set-up by the homeowner or by an authorized Carrier dealer and the simple two-wire installation system is compatible with most HVAC systems and voice-controlled products – like Amazon's Echo and Apple's Home Kit. Features include:
– Wider range of Wi-Fi-enabled controls at a variety of price points — enabling more homeowners to reduce energy consumption
– Convenience and comfort of remote control/access
– An estimated real-time savings forecast* based on how adjustments are made.
– Optimize the system performance based on each home's individual thermal characteristics to enhance energy savings and owner comfort.
– All backed by Carrier's more than century of expertise, from the people who invented modern air conditioning!
Pricing will start as low as $139. www.carrier.com/cor