Let's face it, life is incredibly stressful.   However, it doesn't have to take a toll on your health.  David Gregg – from BehindTheBuy .com is back at PIX11 with some brand new stress busting tech to help us relax our minds and bodies.
iHome Zenergy Speakers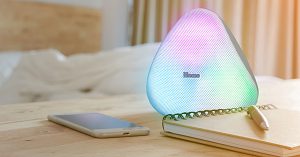 iHome's Zenergy Speakers provide a better night's sleep and an energizing morning wake-up using scientifically proven sound and light therapy. They feature soothing and naturally recorded nature and white noise sounds to help your mind and body relax so you can reach a state of Zen – to focus you into a peaceful place.  Specially designed 1000 lux light therapy programs to help to promote sleep at night and increase energy during the day. They have been recommended by Michael Breus – also known as The Sleep Doctor – the nation's most trusted authority on sleep.  Both the Sleep Therapy Speaker and Alarm Clock are great bedside, travel, and yoga companions – so you can sleep restfully and wake energized.
PRICE:  iHome Zenergy Bedside Alarm Clock (model # iZBT10): $99; iHome Zenergy Portable Sleep Therapy Speaker (model # iZBT5):  $69 http://www.ihomeaudio.com/zenergy/ 
iHome iZBT10 – 

iHome iZBT5 –

PRODUCT GIVEAWAY –  (1) Product Unit
Reliefband Neurowave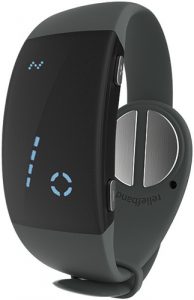 Featuring clinically proven, FDA-cleared technology, The Reliefband Neurowave is designed to suit the needs of people whose lives are deeply impacted by nausea. This powerful device allows them to travel without fear of sickness and once again enjoy common leisure pursuits such as cruising, fishing, amusement rides or staying in the VR game without the use of any drugs.   The Reliefband Neurowave uses Reliefband Technologies' patented technology that applies accurately programmed pulses with highly specific waveforms, frequency and intensity to modulate the median nerve on the underside of the wrist. This precise activity (technically referred to as "neuromodulation") uses the body's natural neural pathways to block the waves of nausea produced by the stomach.  The Reliefband Neurowave contains an intuitive display with 10 intensity settings that can be moved up and down at a touch of a button. This range of settings allow users to find the precise setting that's optimal for their individual needs and has a fully rechargeable battery.
Available early 2nd quarter of 2017.  Priced around $150    www.reliefband.com
PRODUCT GIVEAWAY- (1) Product Unit
Withings Wireless Blood Pressure Monitor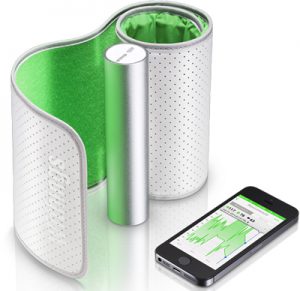 The Withings Wireless Blood Pressure Monitor is a simple solution to accurately checking your blood pressure.  Just slip on the cuff, turn on the Wireless BP Monitor and the Health Mate app will automatically launch. Position arm properly and you're ready to take your blood pressure. The app stores all readings, syncs with Withings Health Cloud, & displays easy to understand chart. Visualize stats on your iPhone, iPod touch, or Android device, as well as on your online dashboard. The data is always backed up. The app gives an instant color feedback based on the National Health Institute standards for a quick & simple grasp of measurements. Share measurements with a doctor with a few easy taps on smartphones & get better support fighting high blood pressure.
PRICE:  $69.99  www.withings.com 

PRODUCT GIVEAWAY – (1) Product Unit
HoMedics – Quad Action Shiatsu Kneading Neck & Shoulder Massager With Heat (NMS-620H)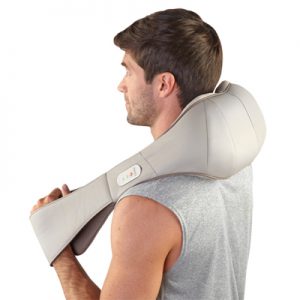 The HoMedics Quad Action Shiatsu Kneading Neck & Shoulder Massager with Heat delivers a deep kneading shiatsu and vibration massage to loosen tight muscles. The integrated control puts you in control of your massage experience. Choose between a deep kneading shiatsu massage, soothing vibration massage or a combination of both. The three speed settings allow you to select the intensity of the massage experience. Add heat and experience a deeper, more relaxing neck and shoulder massage.
PRICE: $129.99     http://www.homedics.com/massage/shiatsu-deluxe-neck-shoulder-massager-with-heat.html 

PRODUCT GIVEAWAY – (1) Product Unit