With the "big game" just a week away, we know many of you will be throwing your own Super Bowl viewing parties.  BehindTheBuy.com's Senior Editor, David Gregg joins us this morning with his product suggestions to enable any Eagles and Patriots fan to score a touchdown at their Super Bowl "52" party!
DreamSeat Powered Home Theater Recliners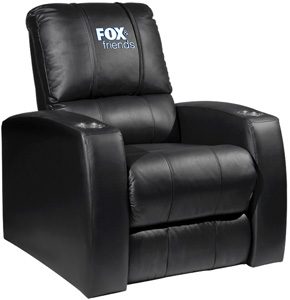 DreamSeat leather reclining chairs feature top grain leather, power or manual recline mechanisms, cup holders, superior comfort, and the ability to zip on and off any high quality embroidered logo in seconds.   DreamSeat chairs utilize the patented XZipit (X-ZIP-IT) system to allow you to zip on and off any logo of your choosing.  Utilize a custom logo or any of the licensed logos on their www.zipchair.com website.  DreamSeat chairs are available with MLB, NBA, NHL, Collegiate, US Army and Navy, General Motors, and assorted hobby and interest logos. DreamSeat chairs are perfect for your living room, man cave, or anywhere you want to sit comfortably and display your favorite team or interest.  Bar stools, office chairs, and sofas are also available and all utilize the same XZIPIT interchangeable logo system.  DreamSeat chairs are commercial grade and are used by professional sports teams, colleges, and corporations across the country, but are also available for your home at www.zipchair.com.  DreamSeat's are a favorite of professional sports teams across the country, sit in the same seats as your favorite players!
PRICE: Start as low as $699 with a logo.  Office chairs start as low as $249 with logo.
WEBSITE: www.zipchair.com (direct to consumer)
www.dreamseat.com (commercial site)
Samsung 65″ Q9F QLED 4K TV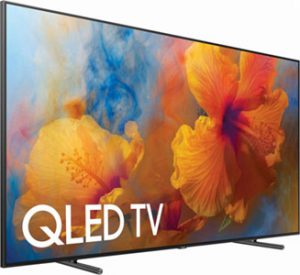 Samsung's 65-inch Q9F QLED 4K TV has stunning 100% color volume and over a billion shades of color thanks to Samsung's proprietary Quantum dots.   Its Q |4K HDR Elite technology delivers elite contrast and expanded color detail, even in the brightest and darkest areas in any scene.  Additionally, the No Gap Wall Mount allows you to hang the TV against a wall without any unseemly gaps between the wall and the set. It fits right into a cutout in the back of the TV, so you can just install, adjust and go. The TV allows you to access your favorite apps, content, and sports with Samsung Smart Hub. There's no need to navigate – you can see everything in one place and find your favorite games and shows easily.
PRICE: 65" – $3,300 (that's 50% off the original MSRP!)

WEBSITE: https://www.samsung.com/us/televisions-home-theater/tvs/qled-tvs/65–class-q9f-qled-4k-tv-qn65q9famfxza/
Samsung MS750 Sound+ Premium Soundbar

Samsung's MS750 Sound+ Soundbar has eleven speakers, including two that project sound upward, which fill the room with sound and give your movies and music a greater sense of elevation and impact.  Cutting edge 'Distortion Cancelling' technology predicts and cancels out distortion before it happens. Multi-speaker control increases the power and depth of bass by precisely coordinating the movement of each speaker resulting in richer, more detailed bass. The Soundbar has a state-of-the-art Wide-range tweeter, which means every spot is the sweet spot. You'll hear consistently amazing sound quality consistently throughout the room.  You can connect your Soundbar to your Samsung TV and devices with ease and without the clutter of wires via Bluetooth or Wi-Fi. You can enjoy all your content instantly with clear, impactful sound.
PRICE: $550
WEBSITE: https://www.samsung.com/us/televisions-home-theater/home-theater/sound-bars/hw-ms750-soundplus-premium-soundbar-hw-ms750-za/
NETGEAR Orbi Tri-band WiFi System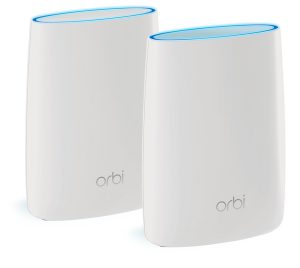 NETGEAR is leveraging mesh WiFi with patented FastLane3 technology to provide whole-home wireless broadband connectivity. Rather than a single router to cover the entirety of your house, NETGEAR Orbi has satellites that provide the strongest connection where you need it. And with the inclusion of Circle with Disney software application, Families will now have the capability to monitor and manage each person's time online and app usage even when outside of your home network.
•  Improve wireless internet performance at home with this NETGEAR Orbi Wi-Fi system.
•   It offers 5000 sq. ft. of coverage at speeds of 3 Gbps for fast access, and it delivers a strong connection to every corner of your home, from the garage to the backyard.
•  The smartphone app for this NETGEAR Orbi Wi-Fi system lets you manage network settings.
PRICE: Starts at:$299.99

WEBSITE: https://www.netgear.com/orbi
FIZZICS Original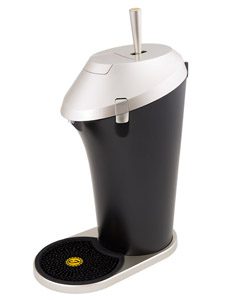 Fizzics uses micro-foam technology to dramatically improve the flavor, taste, and mouth-feel of any carbonated beer. The Original System is big enough to hold a growler, can or bottle of beer. It is easy to use: insert beer, pull forward to tap and push back to top.  Powered by 4 AA batteries makes it convenient to take it to tailgating parties, camping or to friends/neighbors homes.
SCIENTIFIC – Engineered using patent-pending fluid & sound technology to enhance the flavor and taste of beer.
ALL BEER STYLES – Enhances the flavor and aroma of all beer styles, including IPAs, Pilsners, Stouts, Porters, Lagers, etc.
UNIVERSAL – Compatible with all size cans, bottles, and accommodates up to a 64oz growler.
PORTABLE – Powered by 4 AA batteries. Lightweight and durable. Ideal for outdoor activities, camping, tailgating, etc.
COMPLETE – Does not require CO2 or Nitro cartridges, proprietary replacement parts, or ongoing refills to operate.
PRICE: $169.99

WEBSITE: www.Fizzics.com or Target, Brookstone and Amazon.
Vinotemp Double Shot Chiller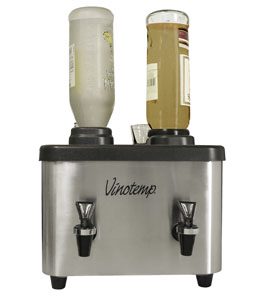 The commercial-grade Vinotemp Double Shot Chiller brings the fun of enjoying chilled shots into the comfort of home. Brought to you by Vinotemp – the leading provider of solutions for storing, cooling and serving beverages – the double shot chiller features: the ability to chill and serve liquor at -5° F, two 750 ml reservoirs, room for storing shot glasses, and 3 bottle supports to ensure that nearly any size/shaped liquor bottle works with the chiller.
Additional Features:
•  Energy-efficient, ultra-quiet thermoelectric cooling system
•   LED lighting to gently illuminate liquor bottles
•   NSF certified with stainless-steel and ABS construction
•   Easy-pour faucets
PRICE: $469 ( a single shot version is available starting at $269)
WEBSITE: vinotemp.com
Boxxle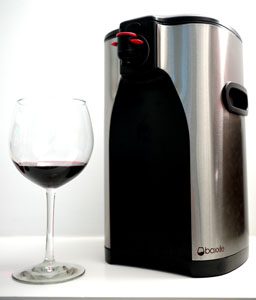 Boxxle is a high-quality Premium 3-Liter Box wine Dispenser, made with Stainless Steel and ABS plastic, the patented product lifts wine above the glass and squeezes out the last glass, making it the perfect way dispense wine and keep it fresh longer. With two patents, Boxxle raises the wine above the glass and squeezes out the last glass Designed to fit under cabinets, it looks great in any kitchen or bar.  Bag-in-Box wine stays fresh after opening for over a month, so you can enjoy a glass from Boxxle when you want, without the worry of oxidation and wasted wine down the drain. No more ugly cardboard boxes on the counter, Boxxle dispenses with class and ease.  Three (3) liter Premium Box wine is the fastest growing wine segment in the USA, growing by more than 25% last year as customers learn about the increased quality of box wine.
PRICE: $99

WEBSITE: www.boxxle.com  – Amazon, Bed Bath Beyond, Target and in select Total Wine and More stores.